---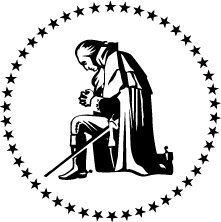 The Presidential Prayer Team
Office of the President
December 28, 2021
Hail, Mighty Warrior!
Dear Brothers and Sisters in Christ,
Recently, I was reading the account of Gideon in the Book of Judges. His village was under attack. In his fright, he had chosen to hide. But God had other plans for him. When an angel appeared to him, might he have thought it was cynical or sarcastic that he called Gideon a "mighty man of valor" (Judges 6:12)? Of course, that was not the case, for God saw in him what he did not see in himself.
Today, you are being called to be a mighty warrior!
From America's founding, God's principles set the standards and patterns for a healthy nation, one that gives individuals freedom and the ability to lead a productive, faith-filled life. And for the most part, across the years, the United States has held on to—or at least respected—those precepts. And God has honored this nation with abundant resources, many of the world's leading innovators, and peace. Yet, there have been subtle, and not-so-subtle, shifts away from the foundations that have allowed America to prosper. Our freedoms… particularly our ability to freely worship and obey the Lord… have been under attack. At times it even seems as though those in positions of power are working against us!
God is calling you and me, to be valiant heroes of faith, mighty prayer warriors in Christ!
He has blessed this nation during our lifetime with a massive team of people who understand the power of prayer. The Presidential Prayer Team began 20 years ago, accepting the charge to equip believers to pray for our nation's leaders. Together, you and so many across the nation have become—and remain—the single greatest daily spiritual prayer endeavor of the 21st Century. Very soon, we will once again have the opportunity to seek out and elect men and women of God to lead this nation. With this opportunity, we can hold fast to "One Nation Under God." The obstacles of agenda-based media reporting, false advertising, and lies can be overcome by God's hand upon our nation.
O Lord, let your ear be attentive to the prayer of your servant, and to the prayer of your servants who delight to fear your name. Nehemiah 1:11
You have the opportunity to be counted as one of the mighty, one who is part of steering the nation back to the Lord. Now is not the time to be fearful, or to hide, but to continue forward with this mighty group of prayer warriors who are dedicated to remaining involved and connected.
Our commitment to you is to continue delivering topical prayer points and information, and to provide you with resources that encourage you to pray, knowing that "the prayer of a righteous person has great power as it is working" (James 5:16).
To continue being this mighty force across America also requires a commitment of financial resources from our members. Right now, every gift that we receive is matched dollar-for-dollar through the end of the year. We are behind on our goal and, as you are able, you can help us stand among the mighty as we continue to be a voice for truth and biblical values in America, all for the glory of God, when you Give Now.
From myself, our Board of Directors, and our staff, thank you, mighty warrior! We pray with you, and for you. May God bless you in the new year.
Jim Bolthouse
President
---
P.S. We are blessed with a mighty reach for our nation. Please take notice of the 2021 production report below—you have played a valued part in everything that we do. Thank you.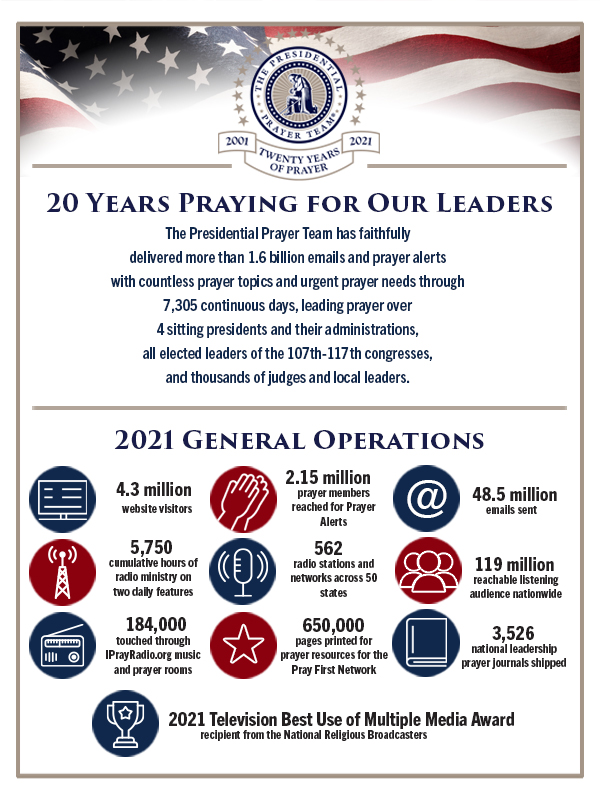 ---
Year-End Matching Challenge
Thank You!
The 2022 matching challenge concluded with us reaching 97.8% of our goal. God is good! We are exceptionally blessed by everyone who has prayed for us and those who have selflessly been able to contribute. Thank you!
President Jim Bolthouse lays out an initial roadmap for the new year and delivers additional thoughts on our 2022 year-end matching challenge results in this new member letter.
---
You can GIVE HERE if you would still like to make a contribution to help us make catch up on our need.
Thank you for your generosity.
---
---
2022 Wall Calendar
The official wall calendar of The Presidential Prayer Team is back for 2022! This full-size wall calendar has 12 months of full-color, high-resolution images printed on premium stock paper. This one of our most requested releases each year!
---
2022 National Leadership Prayer Guides
Your daily companion for prayer, now with added devotionals as you pray through the lessons of our nation's history and teachings from scripture as you lift up our nation and its leaders. Brand new, distinctive covers for 2022!
---
---