---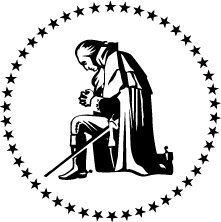 The Presidential Prayer Team
Office of the President
October 26, 2021
Praying Ahead
Dear Brothers and Sisters in Christ,
The common aphorism, "Those who do not learn from history are doomed to repeat it," is inscribed on a plaque at the Veterans Memorial Park in Rhome, Texas, as a message to our future veterans. This is true, not only for those serving, but for everyone. Those who have lived long enough have already begun to witness past trends reappearing and modern events playing out similarly to those of the past. While it is easiest, and even comical, to see cycles recur in things like fashion and music, it becomes a bit more startling when we see it happening in economics and politics. Yet, depending on how you view things, knowing that these cycles are not permanent can be both a concern and a comfort.
  In Jeremiah's time, around 627 B.C., God's appointed prophet warned His people of pending judgment. He brought attention to their wickedness and failure to trust God in their national affairs. The history of Israel turning to and from God was repeating itself once again. And that trend seems to continue to this day. Thousands of years later, his cautionary words are still applicable to our nation. Every day we see attempts to have God further removed and, as a result, we start to see our cherished liberties eroding, and many of our freedoms under attack. America needs a turn-about very soon.
Blessed is the man who trusts in the Lord, whose trust is the Lord. Jeremiah 17:7
  As a nation founded on the principles of a government that represents the people, we have power to make changes. Next year, America prepares for mid-term elections. 469 seats in Congress will be up for vote, along with many local and state officials. There is so much at stake and it depends upon us praying NOW for those who will become our future leaders. Already, your prayer team is in the planning stages to engage our country in prayer for Pray the Vote 2022.
  As we step into the last two month's of 2021, it is critical for us to remain strong. The financial activities, through generous member support, in these final months are commonly a key indicator that sets the pace for our 2022 budget and the resources that will be needed—and available—for the new year.
There is so much for you to pray about over the coming months. We hope you will join us as we bring to the Lord the following prayer concerns:
Pray for those who will become our future leaders and that they will pursue God and seek the truth
Pray for improvements and integrity in our election systems and for those who oversee them
Pray for our leaders who are examining and creating laws around voting and our election processes
Pray that things done in secret or darkness will be exposed and brought into the light
Pray for your prayer team and your fellow members to remain strong of heart and faithful in prayer
  As we close out October, we are behind our budgeted need by $21,500 to end the month on track. Please prayerfully consider whether you can help us stay the course as we head into the final two months of the year. You can give online, safe and secure, here.
  Faithfully praying beside you,
Jim Bolthouse
President
---
P.S. Our 2022 wall calendar is available now, free with a gift of any size. Find out more below. If you already give monthly, thank you, and call us to request yours!
---
2022 Wall Calendar
The official wall calendar of The Presidential Prayer Team is back for 2022! This full-size wall calendar has 12 months of full-color, high-resolution images printed on premium stock paper. This one of our most requested releases each year!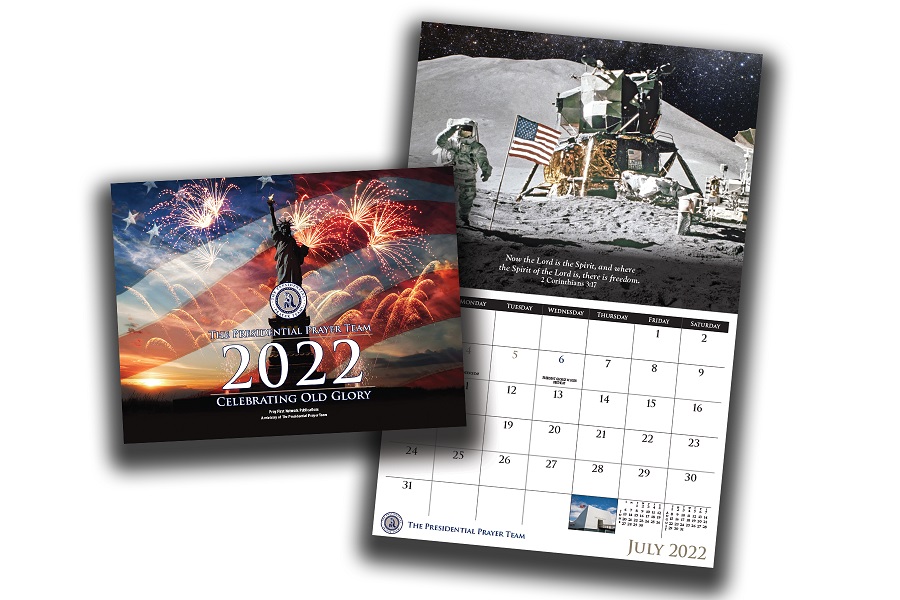 Celebrate the stars and stripes of America, Old Glory, featuring iconic and historic locations where the American flag was first flown or is proudly flying today. Complete with scripture to provide you with inspiration to pray for our nation.
Yours FREE with a gift of any size!
---
Best of Vantage Point
To celebrate our 20th Anniversary, we have compiled a collection of top Vantage Point devotionals all in one book. This Best of Vantage Point holds 40 days of hope, encouragement, and guidance for your spiritual growth.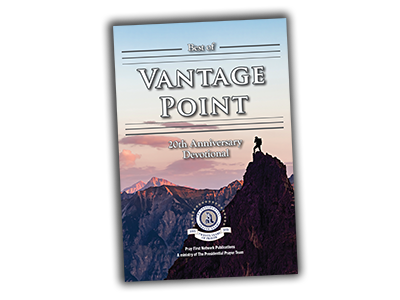 This Best of Vantage Point holds 40 days of hope, encouragement, and guidance for your spiritual growth.
Yours FREE with a gift of any size!
---
Donate
---