---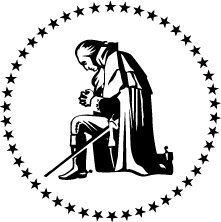 The Presidential Prayer Team
Office of the President
January 26, 2023
Like-Minded
Dear Prayer Warrior,
  With constant change happening around us, it can be easy to reminisce about simpler days and "the way things used to be." Many of the changes we see are disconcerting–especially when they seem to oppose our personal values and separate our nation from God—but we trust in God's sovereignty. God has placed us here and now with a purpose. We are to impact our present world for Him. We are to draw strength upon Him. And we are to trust Him to equip us to face today's challenges.
One of the great benefits of being a part of this prayer team is that you are part of a community of like-minded people who share the goal of living in a nation after God's own heart. You are a valued part of a very large body of believers. Another plus is that your prayer team is committed to serving you! Every day, we have you in mind when our writing team is researching prayer needs to bring to your attention. We ask the Holy Spirit to guide each decision so that they meet our mission of informing and encouraging America to pray over our leaders.
So if there is any encouragement in Christ, any comfort from love, any participation in the Spirit, any affection and sympathy, complete my joy by being of the same mind, having the same love, being in full accord and of one mind. Philippians 2:1-2
  We hear from some political leaders, and even some members, that we should be more than "just" a prayer team. However, we firmly believe that the greatest involvement in our national and world affairs is by PRAYER. All decisions and actions taken to improve our lives must start with prayer. As previewed in past member letters, God has been preparing the way for us to expand and do more for our members. As we grow, The Presidential Prayer Team will continue to focus on prayer for our leaders, and we are also looking to add additional resources to provide educational and Bible-focused tools to improve your prayer life and relationship with God. Whether you have only begun praying recently or have been a prayer warrior for most of your life, we pray that each new step we take will be an asset in your daily walk with God.
  Please join us in praying for our staff and team members as we cultivate and prepare for this growth. As a front-line prayer ministry, you already know the effort and care that we put into this ministry, and we will continue to be committed to you. We will share more in the days ahead, but you can trust that we are striving for better ways to reach more and more like you to further build this prayer outreach.
Thank you for your support and prayers.
Jim Bolthouse
President
---
  P.S. The Pray First Network launched in 2020, and it includes the printing, production, and distribution of prayer resources and materials for The Presidential Prayer Team. The Pray First Network also includes all types of media, including Pause to Pray, which is one of only a few audio prayer features that can be heard many times a day on over 650 radio outlets. Listen to the latest broadcast here: www.PausetoPray.org
---
2023 Wall Calendar
Last chance!
The official wall calendar of The Presidential Prayer Team is back for 2023! This full-size wall calendar has 12 months of full-color, high-resolution images printed on premium stock paper. This one of our most requested releases each year!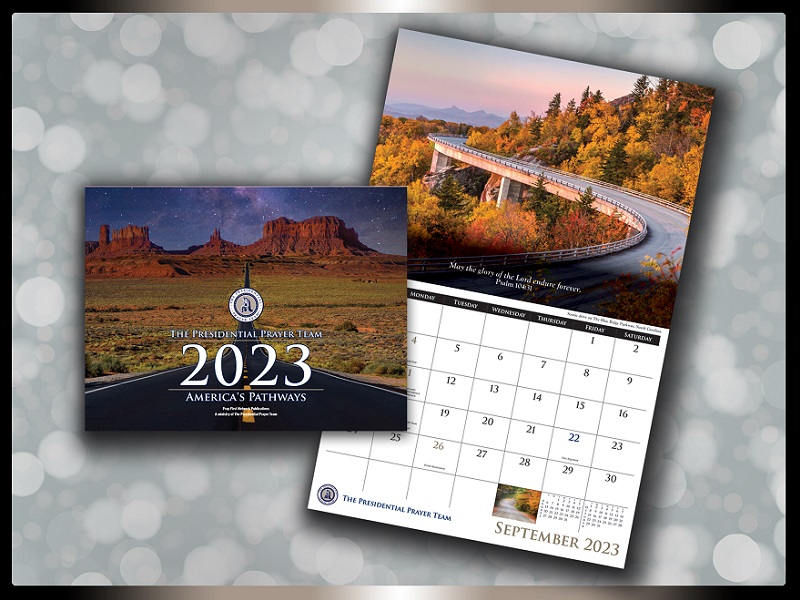 Travel along scenic American pathways and roads this year as we seek God's guidance to lead us every day.
Yours FREE with a gift of any size!
---
2023 National Leadership Prayer Guides
Your daily companion for prayer, now with added devotionals as you pray through the lessons of our nation's history and teachings from scripture as you lift up our nation and its leaders. Brand new, distinctive covers for 2023!
---
---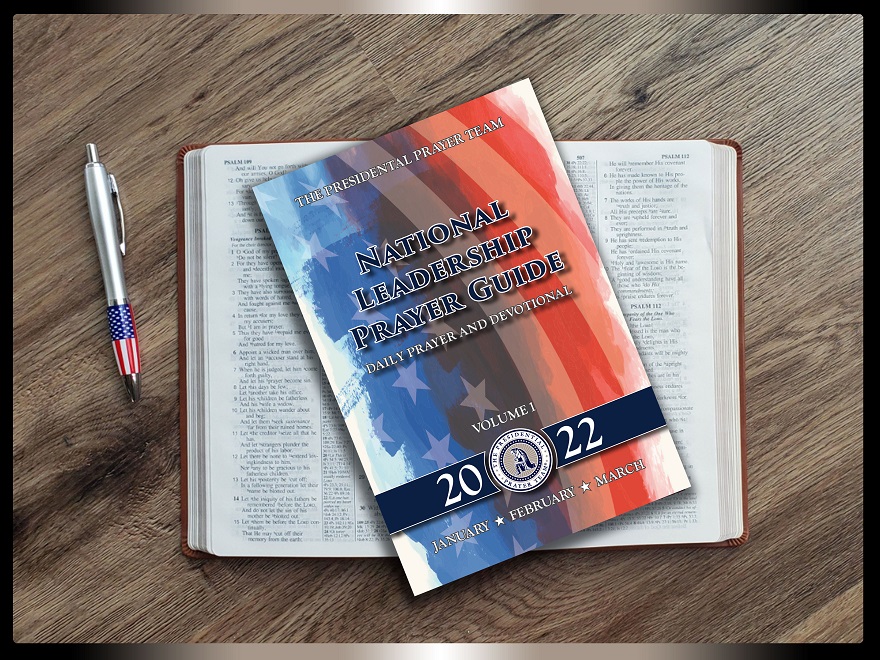 Cover the 1st quarter of 2023, January, February, and March, in daily prayer.
Yours FREE with a gift of any size!
Donate
---