Millions still without power in Florida.
---
UPDATE: 5:30 PM EDT 9/30
The National Hurricane Center has warned of "life-threatening" storm surges of 4 to 7 feet after Hurricane Ian made landfall near Georgetown, South Carolina. Winds at the time were 85 mph and the storm has caused coastal and flash flooding.
"Ian is forecast to turn toward the north-northwest by tonight and will move inland across eastern South Carolina and central North Carolina tonight and Saturday," the National Hurricane Center stated. Officials say the storm should weaken rapidly and should dissipate by Saturday evening.
President Biden issued an emergency declaration for the state of South Carolina and FEMA will assist with local response efforts.
As Florida recovery efforts continue, at least 80 percent of the affected region remains without power. Ian is the fourth-strongest storm to ever hit that state.
UPDATE: 11:30 AM EDT 9/30
Ian has regained Category 1 hurricane strength as it heads toward South Carolina. The storm is expected to make landfall Friday afternoon.
The death toll in Florida has reached at least 19 as rescue efforts continue. Over 2 million are still without electricity as 42,000 workers endeavor to restore power.
Governor DeSantis has called Ian a "500-year event" after surveying a couple of the counties that were hardest hit by the storm. "Some of the damage was indescribable," he said. "The most significant damage I saw was on Fort Myers Beach. Some of the homes were wiped out, some were just concrete slabs."
Torrential rains have caused the flooding of rivers and creeks in central and northern Florida. In one 12-hour span, 14 inches of rain was measured.
UPDATE: 3:00 PM EDT 9/29
The deaths of roughly a dozen people so far have been reported from central and southwest Florida.
Property damage has been extensive. Survey crews, photos, and videos of the region show collapsed buildings, impassable roads, including a key bridge connecting Sanibel and Captiva Islands to the mainland, downed power lines, and extensive flooding.
Governor Desantis stated that crews are prioritizing rescuing those who are trapped on outer islands.
"We have a huge amount of resources that have been brought to bear," the governor said. "This is going to be a 24/7 operation."
UPDATE: 12:00 PM EDT 9/29
As of Thursday morning, Hurricane Ian has knocked out power for at least 2.7 million Florida residents. People as far inland as Orlando have been trapped in homes, and nursing homes and hospitals have had to move patients, due to waist-high or higher flood waters.
"The Coast Guard had people who were in their attics and got saved off their rooftops," Governor DeSantis said. "We've never seen storm surge of this magnitude … The amount of water that's been rising, and will likely continue to rise today even as the storm is passing, is basically a 500-year flooding event."
President Joe Biden issued a formal disaster declaration on Thursday. The Federal Emergency Management Agency is assisting with search and rescue.
The now-tropical storm is expected to strengthen back to hurricane strength after crossing Florida into the Atlantic. The National Hurricane Center is predicting a second landfall to hit South Carolina on Friday.
UPDATE: 3:00 PM EDT 9/28
Hurricane Ian made landfall as a Category 4 storm on Wednesday afternoon near Fort Myers, Florida. A 6-foot storm surge has been measured. Sustained winds have measured 70 mph with gusts of 80 mph. At landfall, the winds were just short of Category 5 strength. As much as 24 inches of rain is expected to fall.
Over 650,000 Florida residents are currently without power.
UPDATE: 2:00 PM EDT 9/27
Hurricane Ian has reached Category 3 strength and is forecast to reach Category 4 by this evening. Heavy rain is already falling across parts of Florida. Landfall of the hurricane is expected tonight, as early as 8 p.m. ET.
As of early Tuesday afternoon, the storm was 280 miles south-southeast of Sarasota, Florida, moving north at 10 miles per hour with sustained winds of 116 mph. "At this time, we are expecting landfall somewhere between Fort Myers and Tampa," FEMA Administrator Deanne Criswell said. "By the time it reaches the shores of Florida, the storm is going to slow down to approximately five miles per hour, and this is significant because what this means is that Floridians are going to experience the impacts from this storm for a very long time," Administrator Criswell added.
Counties across the Tampa area are under mandatory hurricane evacuation orders. About 2.5 million people have been ordered to evacuate. The National Hurricane Center stated, "There is a danger of life-threatening storm surge along much of the Florida west coast where a storm surge warning has been issued, with the highest risk from Fort Myers to the Tampa Bay region."
At a morning press briefing, Governor Ron DeSantis said road shoulders will be opened if sustained highway speeds drop below 40 mph, an attempt to head off the hours-long congestion that impeded evacuations during Hurricane Irma in 2017.
The state has mobilized 5,000 National Guard troops. Search and rescue teams have been activated along with high water vehicles and shallow boats in areas likely to see heavy flooding.
Tampa has not experienced a direct hurricane hit in 101 years. The last major hurricane landfall in Sarasota occurred in 1944. The storm is large in size and the Eastern seaboard is likely to be affected.
President Biden issued an emergency declaration for Florida on Saturday, ahead of the strengthening of then-Tropical Storm Ian to a hurricane. On Tuesday, the president spoke with Mayor Jane Castor of Tampa, Mayor Ken Welch of St. Petersburg, and Mayor Frank Hibbard of Clearwater to discuss preparations being made.
As the Lord Leads, Pray with Us…
For Governor Desantis to have wisdom as he organizes rescue and recovery efforts.
For the president as he issues disaster declarations for assistance with recovery from severe weather.
For National Weather Service officials as they track and prepare their forecasts.
For the people who are evacuating and those who remain in the storm's path.
Sources: The White House, The Epoch Times, National Weather Service, Axios, NPR, Map Finder, WLRN
---
---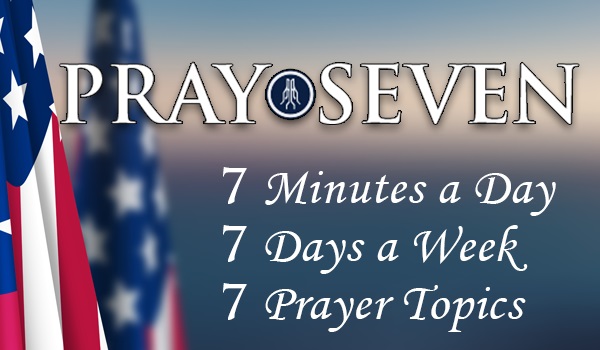 ---
RECENT PRAYER UPDATES