This evening, on the one-year anniversary of the COVID-19 shutdown, the president will be issuing an address to the nation. President Joe Biden and his administration have been working at an increased pace to get the American Rescue Plan into place and to use federal dollars to stimulate the nation's economy with aid.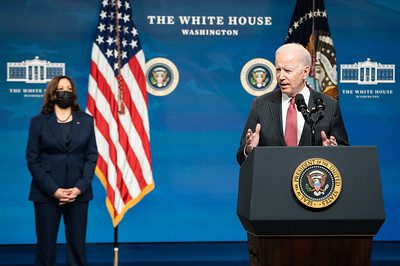 On Wednesday, Congress completed passage of the nearly $2 trillion package. The president is expected to sign the bill into law on Friday.
The president's administration is also working with Congress to craft a massive multi-trillion-dollar infrastructure package. Some economists have urged cation and expressed concerns about the possibility of "overheating" the U.S. economy and causing significant inflation as states reopen and as COVID-19 vaccinations increase.
As the Lord Leads, Pray with Us…
For the president to seek guidance from the Lord as he continues to strategize economic recovery methods.
For God to give the president's economic council and advisors discernment as they continue to evaluate plans for the nation.
For Americans to recognize the Lord as their Provider even as the government subsidizes the nation's recovery.