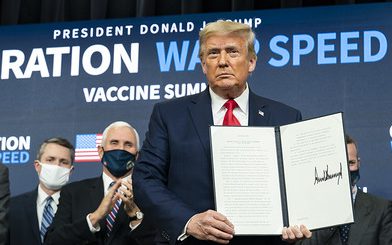 Today, President Donald Trump will have a working lunch with Vice President Mike Pence. They will likely discuss the federal budget and the defense bill that has passed in Congress. The distribution of the newly authorized, emergency-use vaccine by the Food and Drug Administration may be reviewed. Upcoming strategies regarding terrorism might be also considered, with the State Department's recent designation of Ashraf al-Qizani, an emir in Tunisia, as the leader of a terrorist group.
In the afternoon, the president will sign an executive order on increasing economic and geographic mobility.
As the Lord Leads, Pray with Us…
For the president and vice president as they consider the most pressing priorities of the nation.
For wisdom and discernment regarding solutions to national and international concerns.
For God's will to be accomplished in the actions and decisions of the president's administration.