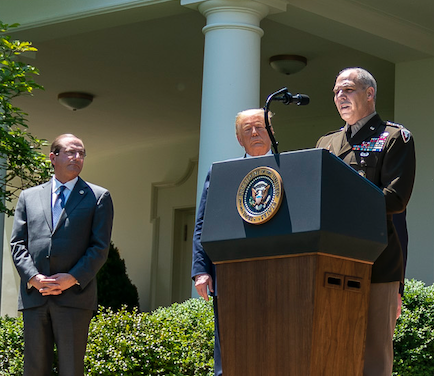 President Donald Trump will receive a briefing on Operation Warp Speed today. The program is a partnership of the Department of Health and Human Services with the Department of Defense to work alongside private organizations and federal agencies to accelerate the development, manufacture, and distribution of COVID-19 countermeasures. One goal of the program is to produce and deliver 300 million doses of a safe and effective coronavirus vaccine with initial doses made available by January 2021.
Earlier this week, Pfizer Inc. announced the vaccine candidate they have had in Stage 3 trials has a 90% effectiveness rate against COVID-19. HHS Secretary Azar stated that the FDA will need several weeks to take the vaccine through its safety and effectiveness process.
The U.S. military has been preparing to assist in the distribution of FDA approved vaccine doses. General Gus Perna, Operation Warp Speed Chief Operating Officer, said, "Leveraging our military planning and logistics capability and combining that with proven methods will allow existing systems to scale quickly to get COVID-19 vaccines to the American people."
As the Lord Leads, Pray with Us…
For the president to receive the most accurate and up-to-date information regarding Operation Warp Speed.
For the Department of Health and Human Services and the Defense Department as therapeutics and vaccines are developed and prepared for distribution.
For the Food and Drug Administration to ensure vaccines are safe and effective before granting authorization.