---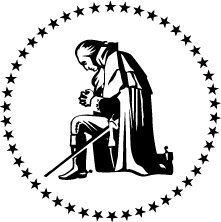 The Presidential Prayer Team
Office of the President
October 22, 2020
Seeking Prayer Through Uncertain Times
Dear Members,
What should we be praying for amidst the chaos we are seeing?
The greatest prayer is also the simplest: "God, may Your will be done on Earth." While no one knows exactly what God has in store for America, we can have peace and assurance in knowing that He is fully in control and He works out His perfect plan to our eternal benefit.
Recently, prayer team member David, from Wichita Kansas, when calling into IPrayRadio.org, cited Isaiah 45 and prayed:
"I thank you, Lord, that in this world where there are powers that strive against You, organizations of great wealth that dismiss Your Word. that You hear us as individuals, that our voice is raised up to You and You have the power to break the chains of darkness over this land. We pray, Lord, that Your Spirit would empower each believer. Strengthen us in faith. Give us clear minds. Give us persuasive voices. We ask in Jesus Name that You would please bless this country and people who call upon You. In Jesus Name, Amen."
(Listen and pray with David here: https://pray.team/praydavid )
"I will go before you and make the crooked places straight; I will break in pieces the gates of bronze. And cut the bars of iron. I will give you the treasures of darkness. And hidden riches of secret places, That you may know that I, the Lord, who call you by your name, am the God of Israel." Isaiah 45
In the final 10 days leading to Election Day 2020, we are calling for a concerted time of prayer from all of America. We are calling on YOU to join fellow prayer warriors and commit to ten minutes each day to pray together just for the election. You will be provided with prayer points and topics to guide you through the full ten minutes each day. We simply ask for your time and your heart opened before the Lord. In addition to prayer points, each day will have a leadership prayer to pray along with and you will be joining with others as they pray together during your ten minutes each day.
We believe prayer is personal act between you and your God, but consider the absolute impact when you combine your prayer times with thousands of others. With over 85,000 already committed to praying, you are joining over 1.5 years worth of continual prayers every day with your ten minutes before God. That is over 8.4 million prayers—and we know that God, in His awesome power, hears each one and promises a heavenly response!
If you haven't already, please add your name in answer to the Prayer Challenge and join us as we count down the last 10 days through the Election Day 2020. It all starts this Sunday. Be a part of this significant effort for prayer here at Pray the Vote.
Faithfully praying with you,
Jim Bolthouse
President
P.S. Jump to candidate positions and party platforms below.
---
Candidate Positions and Platforms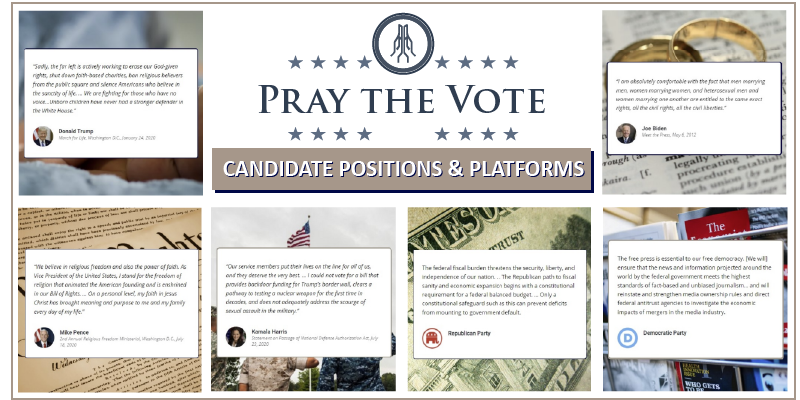 ---
IPrayRadio.org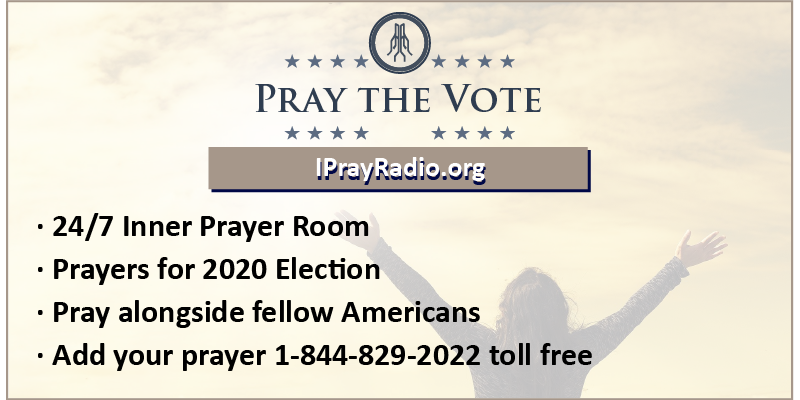 ---
PRAY THE VOTE
It's Time to Cover America in Prayer
Over 80 thousand have accepted the challenge to pray daily over America from now through the election. Will you join them? Each prayer adds more threads to a great magnificent prayer blanket to cover the nation.
---
2021 Calendar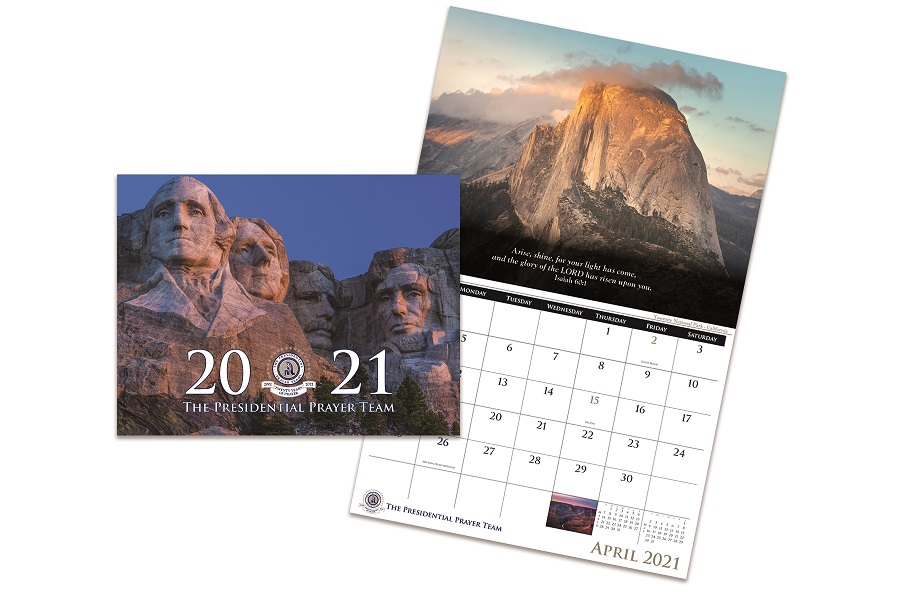 Full-color 2021 Wall Calendar on premium stock paper. Be inspired toward prayer as you look upon the majesty of our land through 12 months of national parks.

Request yours today!
---
Share
Clicking will open a pre-written email in your default email app. Simply add a friend or family member's email address, add any personal comments, and hit send!
Or share us on social media:
---
Donate
---