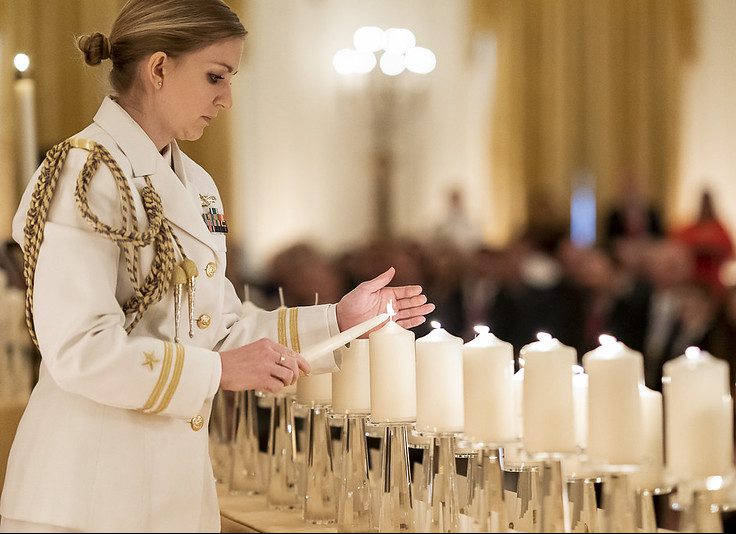 Today, President Donald Trump and First Lady Melania Trump will host a reception in honor of Gold Star Families. A Gold Star Family is the immediate family of a service member who has died in combat.
In 1936, Congress designated the fourth Sunday in September as "Gold Star Mother's Day" in honor of the American Gold Star Mothers organization. Presidential proclamations have come to include immediate families in the recognition.
President Trump stated in his Proclamation on Gold Star Mother's and Family's Day, "The true strength and success of our Armed Forces is found in the love, support, and unity of our Nation's military families, and this is reflected best in our country's inspirational Gold Star Mothers and Families. Shouldering their profound grief, they find the courage and conviction to move forward, transforming their heartache into hope, meaningful service, and outreach to veterans, support organizations, and other military families coping with the death of a loved one. Their ability to overcome, persist, prevail, and in turn, enrich the lives of others, exemplifies the true American Spirit.  On behalf of our grateful Nation, I commend and honor them for their continued commitment to our military heroes."
As the Lord Leads, Pray with Us…
For the president and first lady as they recognize the families of fallen soldiers.
For God's comfort for grieving mothers and families of soldiers who made the ultimate sacrifice for their nation.
For protection for U.S. troops currently serving in harm's way.