---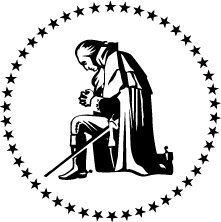 The Presidential Prayer Team
Office of the President
October 26, 2023
Do You Believe in America?
Dear Prayer Warrior,
I was raised believing that our nation stood for good and did what was right. I was taught that, because of God's blessings, we were a benevolent country. I was sure that America was helping others pursue freedom, often at great national and personal cost, risking much to maintain the peace and security on our soil.
  Today, I see things through the eyes of experience. America is no longer what I believed it once was. While I still believe that God has His hands upon our great nation, I can see that our nation has many problems. It would be easy to ignore them and simply hope for the best, but our calling is to be a light in the darkness of this world. We know from history that it is often during dark times that God does great transformational work.
The enemy wants us to think that our light is too small and not enough. But God will never allow our lights to be extinguished. In moments like this, God calls on us to lean on Him and pray. And He listens!
As the nation faces the difficult road ahead, it is this ministry's responsibility to be a source of encouragement in the prayer lives of Godly people like yourself. Nothing will happen in America without prayer first. And please remember that we are always praying alongside you, as are a multitude of prayer warriors across this great nation.
The prayer of a righteous person has great power as it is working. – James 5:16
All believers face spiritual warfare in their lives. The enemy will fight the hardest when we are making a difference. Here too, at your prayer team, we feel the opposition of the enemy. Just last week, we sent out a Prayer Alert that called for prayer over Israel. Almost immediately, several large email providers began blocking our emails, which impacted the delivery of messages to over a quarter of our members.
Spiritual warfare is not always as easy to identify as a blocked email. With each administration, we have seen prayer warriors who experience disillusionment and opposition toward the incoming president and who even harden their hearts toward praying for the new administration. Even though many of them still believe that prayer is necessary, they struggle to look beyond their feelings or party affiliation, and they leave the prayer team. As such, we are accustomed to seeing highs and lows in both member participation and financial support.
Yet, for the first time since our founding, we are not seeing a rebound in membership or participation. Over the past several months, you may have noticed that we have fallen short of funding for our monthly budget, which is needed to sustain our basic operations. By the grace of God, and each of you who have contributed, great or small, and some reserves, we are able to continue. However, we need much more help as we work together through these challenging times and fight to keep prayer FIRST in America.
As we carry on together, we are grateful for your faithfulness and perseverance. We believe that you are reading these words today because God has called you to be here right now, for such a time as this. Thank you for your vigilance in praying with us.
Jim Bolthouse
President
P.S. Our email sending is back to over 98%, but we are still working with providers to find answers as to why their blocks were put in place to begin with. In addition to email, we have added another way to communicate, via text! Invite your friends to join and participate with you. Just text JOIN to 772911.
---
Help Us Reach Our Nation for Prayer
---

---
Key Questions and Answers
Q: Who can join?
A. You and everyone who prays! We encourage you to invite family, friends, and church members to join. They can text INFO to 772911 for full information. (U.S. and Canadian cell phone numbers only at this time.)
Q: Does this work on any smart device or phone?
A: Pray First will work with any registered phone device that has a 10-digit number (U.S. and Canada with active SIM/eSIM). It is not compatible with third-party messaging systems that do not require a phone number. This allows us to use the largest text messaging providers for near-instant sending, to reach millions of cell phone across the country.
Q: When can I expect my first text message?
A: You will receive an immediate response confirming that you are now a Prayer First Responder. Regular text notifications will begin early October when the system goes live.
Q: What should I do when I receive a message?
A: When a prayer text message arrives on your phone, take the matter before the Lord. You will be joining a vast community of prayer warriors who received the same message and praying with you at the same time.
Q: What if I prefer to receive email?
A: If you are signed up to receive daily and/or weekly emails from the prayer team, those will continue with no interruption. This is simply a new service aimed at providing timely prayer needs to your fingertips as quickly and effectively as possible. Email can sometimes be slowed by service providers, or even blocked, and this service will ensure unfiltered delivery.
Q: How often will I get a text message?
A: You may receive 1 or 2 per week, with up to 8 messages per month. Messages will be limited to local daytime hours.
Q: Are there any fees?
A: This is a free service for all who participate, and most cell phone providers offer free texting. We trust God's people will see the impact value this service and support our costs – as they have over the past 22 years.
Q: What if I need to stop for any reason?
A: You can opt-out at any time by simply replying STOP to 772911. And you can rejoin again later at your convenience.
If you have any unanswered questions or thoughts, please Contact Us here.
---
Donate
Show your support with a financial gift to help keep your prayer ministry going. Prayerfully consider giving a donation as we continue to reach America for prayer!
---
If this letter has ministered to and encouraged you, please share it with others who may need these supportive words.

Clicking will open a pre-written email in your default email app. Simply add a friend or family member's email address, add any personal comments, and hit send!
---