Today, President Joe Biden and First Lady Jill Biden will visit Maui, Hawaii, where wildfires caused tremendous devastation less than two weeks ago. The search for victims of the fires has continued.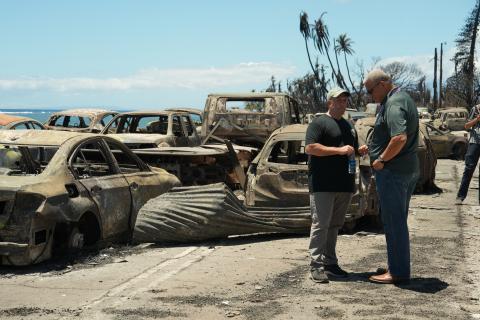 White House Press Secretary Karine Jean-Pierre stated that the president and first lady will "meet with first responders, survivors, as well as federal, state, and local officials, in the wake of deadly wildfires on the island."
 
She said that the president and first lady will "see firsthand the impacts of the wildfires and the devastating loss of life and land that has occurred on the island, as well as discuss the next steps in the recovery effort." She added that President Biden "has committed to delivering everything that the people of Hawaii need from the federal government as they recover from this disaster."
 
The press secretary concluded, "President Biden has stayed closely in touch with FEMA Administrator Deanne Criswell, Hawaii Senators Mazie Hirono and Brian Schatz, as well as Hawaii Governor Josh Green."
As the Lord Leads, Pray with Us…
For Governor Josh Green and other state and local officials as they support recovery efforts.
For first responders, search and rescue workers, and those volunteering to help in the aftermath of the fires.
For the president and first lady as they travel to Hawaii to survey the damage and meet with officials.