The Choice to Serve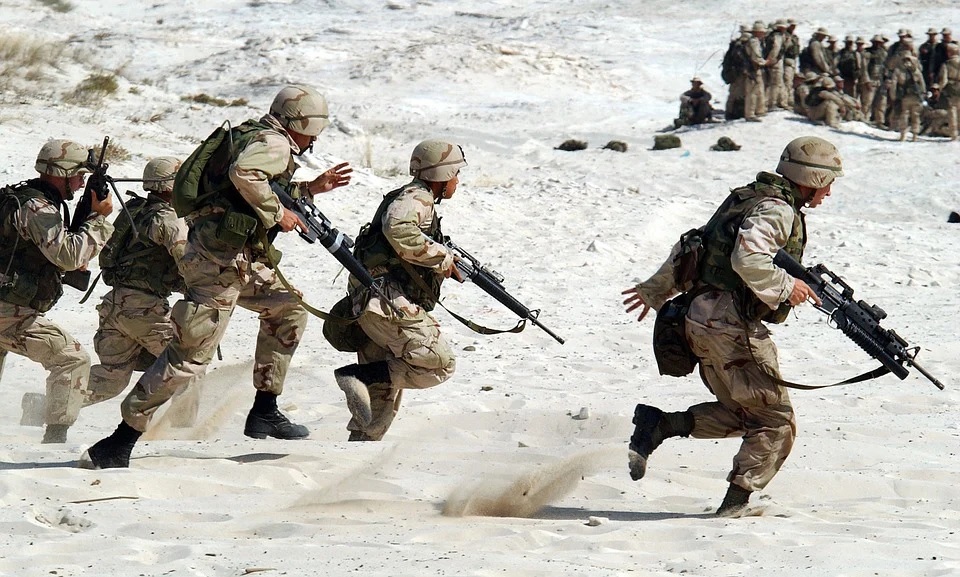 When it comes to the U.S. military, the choice to serve or not to serve is a freedom granted to the youth of America. Right now, many are saying "no."
Former Secretary of Defense Dr. Mark Esper wrote an op-ed in mid-September on the decline in America's all-volunteer military, saying it is "slowly dying." Since conscription ended five decades ago, the all-volunteer force (AVF) produced the high-quality force it promised. "In conflict after conflict, the more experienced, better motivated, and professional U.S. troops dominated the battlefield," he said.
Today, however, the armed services are struggling to meet their recruiting goals. Dr. Esper said, "Experts point to a variety of reasons such as insufficient pay and benefits, a difficult work-life environment, 'culture war' issues, COVID-19, and a strong job market."
Military conscription in the U.S. has been employed for six conflicts: the American Revolutionary War, the American Civil War, the First World War, the Second World War, the Korean War, and the War in Vietnam. In 1940, Congress passed the Selective Training and Service Act, and, until 1973, during peace and conflict, men were drafted to fill vacancies in the armed forces that could not be filled by voluntary means. Active conscription ceased in 1973, and the military was moved to an all-volunteer force.
Still, almost all men between the ages of 18 to 25 and who are U.S. citizens or immigrants living in the U.S. are required to register with the Selective Service. Citizens must register within 30 days of turning 18; immigrants must register within 30 days of arriving in the U.S. Even though the U.S. military has been an all-volunteer force since 1973, an act of Congress could still reinstate the draft in case of a national emergency.
A May 2022 commentary by Thomas Spoehr, Director of the Center for National Defense, said the drop in interest in joining the military has a number of factors in play. "Other more lucrative opportunities are available" with better pay and better benefits. "The public fiasco with the Afghanistan withdrawal shook many Americans' confidence in the military" creating a negative influence on any inclination toward military service. The number of veterans is declining and "fewer veterans mean fewer youth are exposed to these great examples of American society." He continued, "Civic education in U.S. public schools is often atrocious" leaving students with little to no knowledge of or care for the government. Finally, the unrest existing in the world halts people from enlisting.
There are other problems as well. A December 2020 report revealed that 71 percent of young Americans between the ages of 17 and 24 are ineligible for military service "because they are too poorly educated, too overweight, or have a history of crime or substance abuse."
Lyrics to a song by Paul Colwell say, "Freedom isn't free! Freedom isn't free! You've got to pay a price, you've got to sacrifice, for your liberty."
A Gallup poll from 2021 revealed that 69 percent of American adults are "extremely" or "very" proud to be American. The numbers are actually a few points better than the low seen in the same polling before 2017. However, there is a clear generational difference. Half of Americans ages 18 to 34 said they were proud to be Americans, including 26 percent who say they are extremely proud.
A slightly different approach, taken at the same time in 2021 by the Pew Research Center, asked if Americans were proud of their country. Thirty-nine percent of American adults said they were proud, while 50 percent said they were "often proud and often ashamed." There was no age breakdown in the results.
A study by OZY and Survey Monkey on what it means to be patriotic found an average of 64 percent felt military service was patriotic. Voting was the number one patriotic act at 77 percent of respondents. Sixty percent felt displaying the American flag was patriotic, singing the national anthem 59 percent, and saying the Pledge of Allegiance, 56 percent.
According to Dr. Esper, the Pentagon, the White House, and Congress must work together to reverse the underlying trends. He wrote, "They could begin by standing up a bipartisan commission of esteemed leaders, much like President Richard Nixon did in 1969 when he decided to end conscription. This time, rather than creating the AVF, the new panel's mission would be to save it. As such, commissioners must focus on the key issues: increasing the pool of young people qualified to serve and raising their interest in doing so."
The ability of the military to defend the nation depends directly on a sizeable force of top-notch volunteers. The challenge needs to be addressed.
Military service was common in biblical times. For example, in Numbers chapter 1, God had Moses number all the forces of "fighting men" from each of the twelve tribes of Israel. The Lord said, "Take a census of all the congregation of the people of Israel, by clans, by fathers' houses, according to the number of names, every male, head by head. From twenty years old and upward, all in Israel who are able to go to war" (Numbers 1:2-3). Always remember the battle belongs to the Lord, Psalm 108:12-13 states, "Oh grant us help against the foe, for vain is the salvation of man! With God, we shall do valiantly; it is he who will tread down our foes."
How then should we pray?
For Secretary Lloyd Austin to seek the Lord's wisdom as he heads the Defense Department.
For the Joint Chiefs of Staff to advise the president wisely.
For officials in the Pentagon to have discernment as they assess risks to national security.
For U.S. officials as they seek avenues to improve the education and health of American youth.
For Secretary Cardona and U.S. educators to return to teaching accurate civics and national history.
For the president and members of Congress as they consider issues with respect to the drop in military recruitment and incentives for enlisting.