The Future of Faith in the U.S.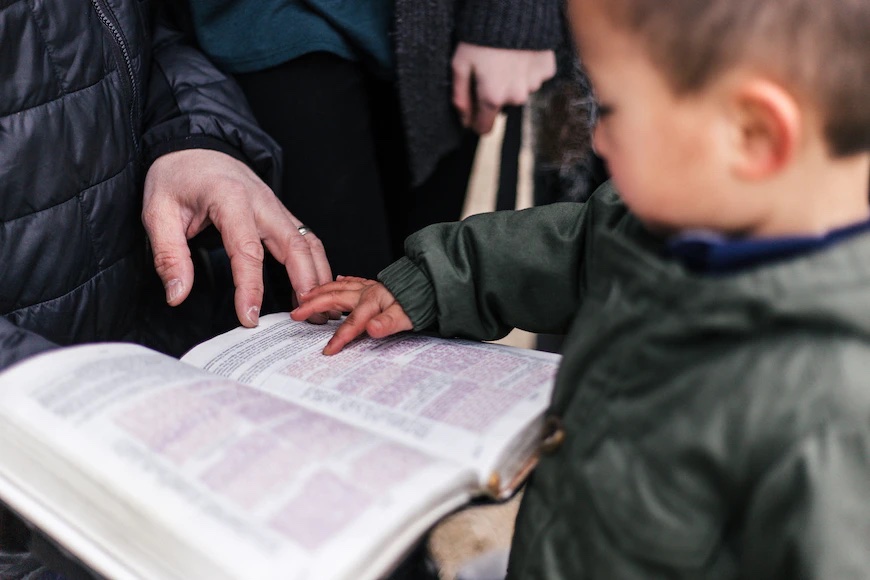 Saint John Chrysostom was a Fourth Century Archbishop of Constantinople. He was a prolific author and a strong family advocate. He emphasized the central role of the family in religious instruction and the establishment of correct priorities. He wrote, "Let everything take second place to the care of our children, our bringing them up in the discipline and instruction of the Lord." He was echoing the words of the apostle Paul who said, "Fathers, do not provoke your children to anger, but bring them up in the discipline and instruction of the Lord" (Ephesians 6:4).
The Book of Proverbs is a good resource guide for any parent. For example, Proverbs 22:6 says, "Train up a child in the way he should go; even when he is old he will not depart from it."
A study published by the Pew Research Center in December 2020 found that about half (48 percent) of adolescents ages 13 to 17 report that they and their parents share all the same religious beliefs. Nearly as many (43 percent) say they share some beliefs with their parents, while 8 percent say their parent has quite different religious beliefs.
In the abstract for a symposium at Notre Dame Law School in 2000, assistant law professor Dr. Richard Garnett asserted that it is time for parents to take seriously the Constitutional guarantee of the "liberty of parents and guardians to direct the upbringing and education of children." Within that, he called for the child's religious upbringing.
The National Directory for the Catechesis states, "With the Christian family, parents are the primary educators in the faith and the first heralds of the faith with regard to their children."
In a 2019 article in Psychology Today, the authors state that people are happier, healthier, and more satisfied with life, as well as having a sense of meaning or purpose if they have adopted one set of values rather than another. An article by Beechacres Family Center said that "happy and successful families are created with intention. They just don't happen." They say that identifying the family's values is a critical part of building a successful family. They add, "Family values are often reinforced by our spiritual or religious beliefs and ideas passed down from generation to generation."
Atheist Richard Dawkins claims that teaching children to accept their families' religious beliefs is child abuse. Dr. Elizabeth Mitchell, Medical Director at Answers in Genesis, says that Dawkins is "very much in the habit of engaging in logical fallacies in [his] rhetoric attacking both Christianity and religious teaching for children."
She continues, "Throughout history parents have taught their children their own religious beliefs. And throughout history children have eventually evaluated those teachings for themselves—some reject their parents' belief and others do not." She believes in "the importance of giving children true biblical answers about life and life's issues—not to indoctrinate them or to enslave their minds—but to help them." Children, she says, need to grow up with the tools to make informed choices about the most important decisions in life.
She concludes, "Child abuse? We hate to abuse the term, as Dawkins and others do. Still, we have to point out that the very things Dawkins advocates—to deprive a child of living water (John 4:10–14) and the spiritual nourishment (1 Corinthians 3:2; Hebrews 5:14; 1 Corinthians 10:1–4) available in the Bible, to deprive a child of the knowledge that they were created by a God who loves them (John 3:16; Colossians 1:16; John 1:3–4,12–14), to deprive a child of the knowledge that the evils of life are rooted in man's sinful decisions, to deprive a child of biblical answers for life's greatest questions, to deprive a child of the truth about how to be saved now and forever, to deprive a child of the knowledge that 'Jesus loves me' (Galatians 2:20)—can cripple and irreparably harm a child, for now and eternity." 
The apostle Paul wrote the following to his protégé Timothy: "As for you, continue in what you have learned and have firmly believed, knowing from whom you learned it, and how from childhood you have been acquainted with the sacred writings, which are able to make you wise for salvation through faith in Christ Jesus" (2 Timothy 3:14-15).
How then should we pray?
For the Lord to draw the hearts and minds of young people in the United States to Him.
For parents to be faithful in teaching their children the values found in Scripture and model a godly life.
For members of Congress and the U.S. judiciary to protect the religious rights of American parents and families.
For pastors and ministers to be an encouragement to parents and families as they instruct their children in faith.
For revival to spread through this nation and create a resurgence of faith.