"One Pill Can Kill"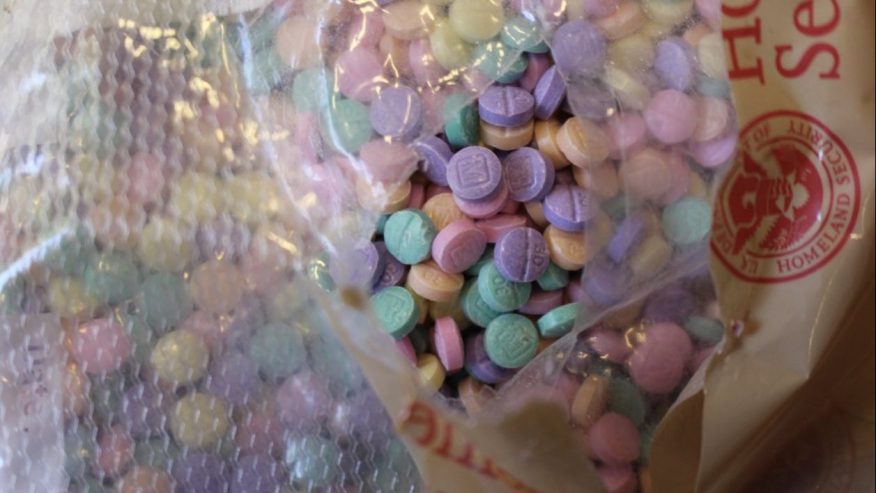 Have you heard any of these names before? Apace, China Girl, China Town, China White, Dance Fever, Goodfellas, Great Bear, He-Man, Poison, and Tango & Cash? Those are but a few of the street names for the most lethal drug to come to the streets of America, and it is killing the nation's youth.
Fentanyl is a synthetic opioid that is 50 to 100 times stronger than morphine. Pharmaceutical fentanyl was developed for the pain management treatment of cancer patients and applied in a patch on the skin. Because of its powerful properties, fentanyl has also been diverted for use in illicit drugs. According to the Drug Enforcement Agency, fentanyl is added to heroin to increase its potency, or disguised as highly potent heroin. Many users believe that they are purchasing heroin and actually do not know that they are purchasing fentanyl, which often results in overdose deaths.
Fentanyl is also pressed into pill form and can be purchased person-to-person, online, and via social media, making them available to anyone with a smartphone. The pills look like legitimate opioid or anti-anxiety prescription medications but may contain lethal amounts of fentanyl.
China is the primary source of fentanyl and fentanyl-related substances trafficked through international mail and express consignment operations, often coming from Hong Kong or India directly into the United States. According to comments made by Chinese President Xi Jinping at the G20 summit in 2019, China officially controlled all forms of fentanyl as a class of drugs. They were the prime supplier to the U.S.—and to Mexico.
Mexican transnational criminal organizations (TCOs or cartels) have been producing increased quantities of fentanyl and illicit fentanyl-containing tablets with some cartels using increasingly sophisticated clandestine laboratories and processing methods. On September 1, 2022, the Drug Enforcement Agency issued a warning to the public that colorfully dyed fentanyl, dubbed "rainbow fentanyl," is readily available across the United States. The pills and powders in a variety of bright colors, shapes, and sizes, are a deliberate effort by drug traffickers to drive consumption amongst kids and young adults.
A lethal dose of fentanyl is thought to be as little as 2 milligrams or about 10 to 15 grains of table salt. The DEA says it is impossible to determine how much fentanyl is contained in a pill or powder without conducting laboratory testing.
The federal government does not track death rates for every drug. However, the National Center for Health Statistics at the Centers for Disease Control and Prevention does collect information on deaths involving many of the more commonly used drugs. There is a significant time lag in statistical reporting, but for the year 2020, nearly 92,000 persons in the U.S. died from drug-involved overdoses, including illicit drugs and prescription opioids. Deaths involving synthetic opioids, primarily fentanyl, rose to 56,516 overdose deaths reported in 2020. More than 70 percent of deaths occurred among males,
In its July 2022 monthly operational update, U.S. Customs and Border Patrol reported that each month they make seizures of illicit narcotics coming across the border. Fentanyl seizures increased 203 percent in July compared to June.
But not all fentanyl deaths are from illicit drugs. Medically prescribed fentanyl patches hold a deadly fascination to small children who treat them like Band-Aids. One report shows that fentanyl accidents continue increasing, with most childhood cases occurring in boys, and most childhood victims are between two and four years of age.
It is the illicit drug so easily available that is killing America's youth at far too great a rate. The accounts from families are grief-laden. One young student-athlete, preparing to leave home for his first year of college, bought a drug on Snapchat to help relieve his anxiety. He took one pill. It was laced with fentanyl and he was dead in mere minutes in his own bedroom. The online seller of the drug was arrested, tried, convicted, and sentenced to 17 years in prison. The young man's father told the judge, "Drug manufacturers are creating a product with a purpose to deceive, and our nation's young adults are now being targeted and tricked to believing their purchase is a safe pharmaceutical-grade product by drug dealers."
The Drug Enforcement Agency has created a digital social media campaign to "help raise public awareness of a significant nationwide surge in counterfeit pills that are mass-produced by criminal drug networks in labs, deceptively marketed as legitimate prescription pills, and are killing unsuspecting Americans at an unprecedented rate." The campaign is called One Pill Can Kill.
Scripture warns about activities that are destructive. "Do not get drunk on wine, which leads to debauchery. Instead, be filled with the spirit" (Ephesians 5:18). For those who are tempted to try just one pill, "No temptation has overtaken you that is not common to man. God is faithful, and he will not let you be tempted beyond your ability, but with the temptation, he will also provide the way of escape, that you may be able to endure it" (1 Corinthians 10:13).
How then should we pray?
That America's youth would avoid the temptation to take any random pill or powder.
For DEA officials as they track the production and distribution of illicit substances.
For CBP officers as they interdict drug traffickers and smuggling efforts from Mexico and abroad.
For Homeland Security investigators to be effective in uncovering China-Mexico connections in the lethal drug trade.
That the campaign of the DEA would prevent the consumption of destructive substances by adults, youth, and children
For families who are suffering the loss of children to fentanyl or other drugs.