President Joe Biden is traveling to Fort Worth, Texas, today. He will be visiting a Veterans Affairs clinic and will speak about the nation's healthcare for veterans.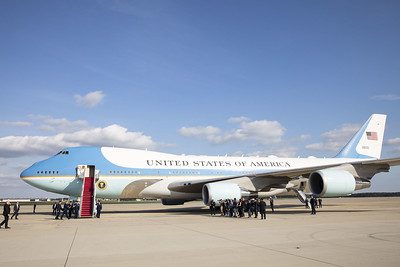 The president's administration is working to address toxic exposure to environmental pollutants for members of the military, particularly the use of burn pits. In Iraq and Afghanistan, all sorts of items, including medical and human waste, metal and aluminum cans, plastics, rubber, wood, and food waste, were burned by the U.S. military in these pits. This practice resulted in service members experiencing a range of symptoms that affected the eyes, throat, lungs, and skin.
President Biden's son, who served in the military, died of brain cancer in 2015. The president said in his State of the Union address, "We don't know for sure if a burn pit was the cause of his brain cancer, or the diseases of so many of our troops. But I'm committed to finding out everything we can."
The president stated, "The VA is pioneering new ways of linking toxic exposures to diseases, already helping more veterans get benefits." He added, "We're expanding eligibility to veterans suffering from nine respiratory cancers."
As the Lord Leads, Pray with Us…
For the president to seek God's direction as he and his administration expand healthcare for military veterans.
For Secretary McDonough to be discerning as he implements and updates VA health care.
That God would protect members of the U.S. military serving around the nation and across the globe.
For safety for the president as he travels to Texas.