Today, the president is at his home in Wilmington, Delaware. He has no public events scheduled on his agenda.
President Joe Biden provided an update on the status of COVID-19 and vaccinations on Friday, "I'm pleased to announce that today we will have reached the mark of 300 million shots in the arms in just 150 days."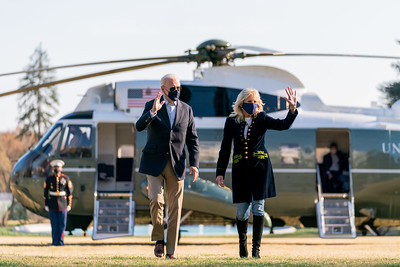 He added, "It's an important milestone that just didn't happen on its own or by chance. It took the ingenuity of American scientists, the full capacity of American companies, and a whole-of-government response across federal, state, Tribal, and local governments. Together, we built an unparalleled vaccination program and managed one of the biggest and most complicated logistical challenges in American history."
White House Press Secretary Jen Psaki reported on Friday about the U.S. assisting Ukraine, "We have now provided the entire amount appropriated by Congress through the Ukraine security assistance initiative. Two days before the Summit, President Biden stood on the stage before the entire world at NATO and said that we would keep putting Ukraine 'in the position to be able to continue to resist Russian physical aggression.' We have also prepared contingency funds in the event of a further Russian incursion into Ukraine. As President Biden told President Putin directly, we will stand unwavering in support for Ukraine's sovereignty and territorial integrity."
As the Lord Leads, Pray with Us…
For the president and his administration as they seek to support the recovery of the nation.
For President Biden and his advisors as they respond to issues with foreign nations.
For the president as he prepares for the coming week.