President Joe Biden and First Lady Jill Biden will fly to Delaware to spend time at their home in Wilmington.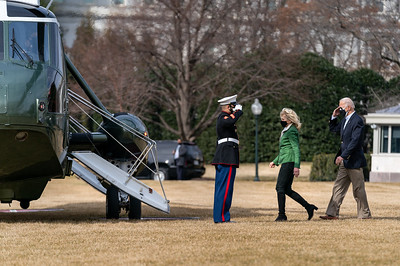 On Friday, White House Press Secretary Jen Psaki spoke about the situation between Hamas and the nation of Israel, saying, "Our objective from this administration, from the president, from our entire national security team is to work toward deescalation, to work toward a lasting peace. And that is what the focus of every conversation we are having, from the level of the President on down, and many conversations that are happening with people — with leaders in the region — Palestinian leaders, Israeli leaders, Egyptians, Tunisians — many who can be influential on Hamas."

She added, "We're watching this closely. We will remain closely engaged. A lot of conversations we have may happen behind the scenes because that may be the most appropriate way to deescalate the situation on the ground."
As the Lord Leads, Pray with Us…
For safety for the president and first lady as they travel to their Delaware home.
For President Biden and Secretary Blinken to seek God's direction on their response to events in the Middle East.
For U.S. military stationed in the Persian Gulf area and those who are being withdrawn from Afghanistan.