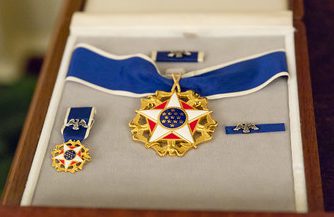 President Donald Trump will present the Presidential Medal of Freedom, the nation's highest civilian award, to Lou Holtz this morning at a White House ceremony held in the Oval Office. The White House press release said of Holtz that, in addition to being "one of the greatest football coaches of all time," that he is "also a philanthropist, author, and true American patriot." Holtz has received honorary doctorates from the University of Notre Dame, the University of South Carolina, Trine University, and the Franciscan University of Steubenville to commemorate his accomplishments.
In the afternoon, President Trump will sign an executive order regarding the use of Artificial Intelligence by the government and the congressional bill H.R. 5901, the Information Technology Modernization Centers of Excellence Program Act. The bill, passed by the Senate last month, sets up parameters for the General Services Administration to facilitate the integrity, confidentiality, and availability of federal information and provide sufficient cybersecurity for executive agencies.
As the Lord Leads, Pray with Us…
For President Trump as he awards the Presidential Medal of Freedom to Coach Holtz.
For the federal government to benefit from the guidance of the executive order regarding the use of artificial intelligence.
For the GSA to be equipped to effectively fulfill the security responsibilities given to the agency by Congress in the law that the president will sign.