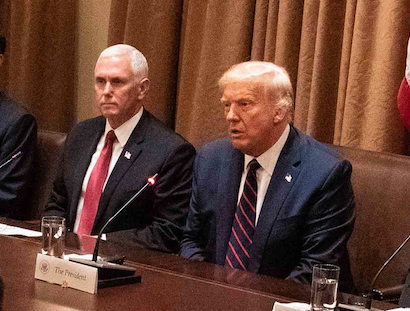 Today, President Donald Trump will have a working lunch with Vice President Mike Pence.
On Wednesday, the president declared emergency conditions for the state of Florida due to Hurricane Eta. FEMA named Jeffrey L. Coleman as the federal coordinating officer overseeing disaster relief efforts.
National Security Advisor Robert O'Brien reported on Wednesday that the disqualifications of pro-democracy legislators from the Hong Kong Legislative Council by Chinese Communist Part is a violation of its international commitments and indicates the one party dictatorship that is expanding in Hong Kong.
Later this afternoon, the president will meet with Secretary of State Mike Pompeo and Secretary of the Treasury Steven Mnuchin. They may discuss the negotiations taking place between Israel and Lebanon, the situation in Belarus in which two U.K. diplomats were expelled from the country this week, and the deadly Islamic State attack in Vienna, Austria, earlier this month.
As the Lord Leads, Pray with Us…
For discernment for the president and vice president as they consider the needs of the country.
For the State Department as diplomatic relationships and negotiations are made with foreign nations.
For the Treasury Department as foreign and domestic economic measures are discussed and decided.