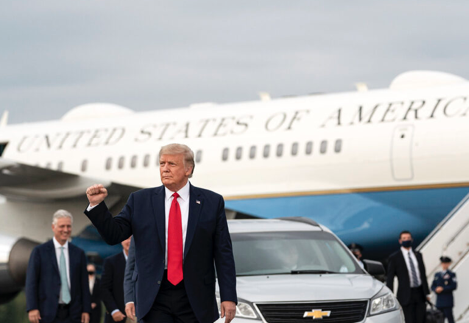 President Donald Trump will travel to Waterford Township, Michigan, then Green Bay, Wisconsin, and finally Rochester, Minnesota, today, holding campaign events in each location.
The president's administration announced on Thursday the finalizing of price transparency reform. Press Secretary Kayleigh McEnany reported, "health insurance companies will finally be required to disclose to the public the price they pay for covered services and prescription drugs." Insurance companies will also "be required to disclose the estimated cost a patient will have to pay, prior to that patient receiving care." This insurer price transparency fulfills President Trump's "commitment to give patients unprecedented visibility into their care and how much it costs."
The Bureau of Economic Analysis released the Gross Domestic Product on Thursday as well, estimating the "real GDP grew 7.4 percent (33.1 percent at an annual rate) in the third quarter, the largest single quarter of economic growth on record and roughly twice the prior record of 3.9 percent (16.7 percent at an annual rate) set in the first quarter of 1950." The U.S. economy is expected to continue its strong recovery in the fourth quarter of 2020.
As the Lord Leads, Pray with Us…
For the insurance industry to fully comply with President Trump's price transparency reforms.
For the people of the United States as they seek to regain financial stability in the wake of the pandemic shutdowns.
For the president as he travels and speaks to the residents of Michigan, Wisconsin, and Minnesota.