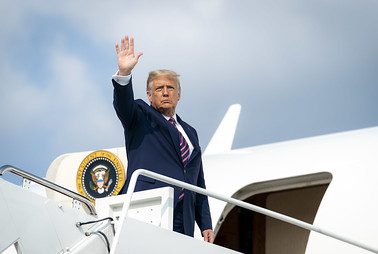 Today, President Donald Trump will be traveling to Arizona. He will meet with residents and voters and deliver remarks at campaign events in Goodyear and Bullhead City. The president is expected to discuss what the administration is doing to address the ongoing federal response to the coronavirus outbreak. On Tuesday, the president said in a statement from the White House, "We will vanquish the virus, we will overcome this pandemic, and we will emerge better, stronger, and more unified than ever before."
In addition to this, the president's message will focus on the administration's plans to help the nation and the state of Arizona recover economically from the pandemic. As part of this, he will discuss what he is doing specifically to work with national, state, and local officials to create jobs and get the nation back on track.
In the evening, the president will travel to Florida where he will remain for the night.
As the Lord Leads, Pray with Us…
For safety and good health for the president as he travels.
For wisdom for the president as he speaks to the residents of Arizona.
For God to be at work through the president and administration officials as they work towards economic recovery.