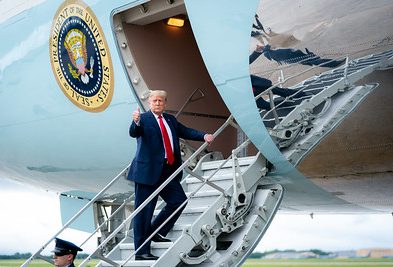 Today, President Donald Trump will travel from Nevada to Arizona. He will participate in campaign events in Prescott and in Tucson.
Over the weekend, prior to departing for Nevada, President Trump signed the National Suicide Hotline Designation Act of 2020 bill into law. The bill designates 9-8-8 as the universal telephone number for the national suicide prevention and mental health crisis hotline system. The 3 digit number will go into effect in 2022 connecting to the hotline that is currently reached by calling 1-800-273-8255 (TALK).
The president also signed the Commander John Scott Hannon Veterans Mental Health Care Improvement Act of 2019 into law. This legislation amends several VA authorities related to helping veterans transition from military to civilian life, including suicide prevention, mental health care research and oversight, mental health care staffing, and health care for women veterans.
As the Lord Leads, Pray with Us…
For discernment for the president as he speaks to the citizens of Arizona.
For President Trump's administration as they seek to support those struggling with mental health issues.
For the Department of Veterans Affairs as they work to help veterans transition from serving in the armed forces to civilian life.