600,000 are told to evacuate the gulf coast.
---
In the largest evacuation during the era of the COVID-19 pandemic, orders were issued for more than half a million people telling them to flee from their homes near the Texas-Louisiana border, where entire towns could be toppled by waves from Hurricane Laura's storm surge.
The National Hurricane Center reports that Laura has strengthened into a very dangerous Category 4 hurricane, raising fears of a 20-foot storm surge that forecasters said could be "unsurvivable" and capable of sinking entire communities. Authorities implored coastal residents of Texas and Louisiana to evacuate and worried that not enough had fled.
Unsurvivable storm surge with large and destructive waves will cause catastrophic damage from Sea Rim State Park, Texas, to Intracoastal City, Louisiana, including Calcasieu and Sabine Lakes. This surge could penetrate up to 30 miles inland from the immediate coastline. #Laura pic.twitter.com/bV4jzT3Chd — National Hurricane Center (@NHC_Atlantic) August 26, 2020
Texas Governor Greg Abbott and Louisiana Governor John Bel Edwards expressed concerns that time is running out and not enough coastal residents were taking the dire predictions seriously. Abbott warned that families who do not get out of harm's way could be cut off from help after the storm makes landfall Wednesday night.
A Category 4 hurricane can cause damage so catastrophic that power outages may last for months in places, and wide areas could be uninhabitable for weeks or months. The threat of such devastation posed a new disaster-relief challenge for a government already straining to deal with the coronavirus pandemic.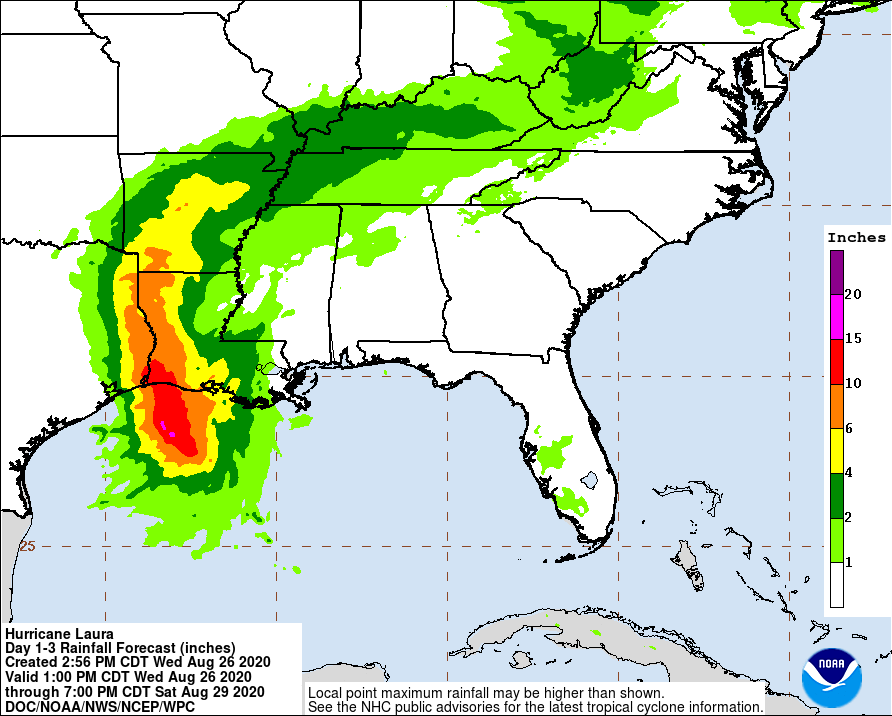 "Heed the advice of your local authorities. If they tell you to go, go! Your life depends on it today. It's a serious day and you need to listen to them," said an official with the National Weather Service.
President Trump also urged coastal residents to heed local officials.
Hurricane Laura is a very dangerous and rapidly intensifying hurricane. My Administration remains fully engaged with state & local emergency managers to continue preparing and assisting the great people Texas, Louisiana, and Arkansas. Listen to local officials. We are with you! pic.twitter.com/x0JoijLUpb — Donald J. Trump (@realDonaldTrump) August 26, 2020
As the Lord Leads, Pray with Us…
That residents of the coastal areas who have been told to evacuate would heed the warnings and get to safer places
For first responders, FEMA, and others who are on "stand-by" as they await Hurricane Laura's devastation.
Sources: National Hurricane Center, CNN, CBS News
---
RECENT PRAYER UPDATES