Today, the Department of Energy is holding a webinar for funding opportunities under the infrastructure law for Industrial Assessment Centers and Building Training and Assessment Centers at community colleges.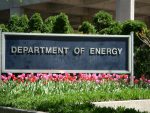 "Strengthening and diversifying the pipeline for high-quality manufacturing and building efficiency jobs is part of President Biden's Investing in America agenda to create an economy that will allow our nation to reach its clean energy future," said Secretary Granholm. "This is a direct investment in the next generation of American workers that will help ensure America's global leadership in advanced manufacturing and green building technologies." 
President Biden is at the White House today. He will receive his intelligence briefing and meet with administration officials regarding his agenda.
As the Lord Leads, Pray with Us…
ForSecretary Granholm as she supports the president's agency regarding energy and job creation.
For the president and his administration as they consider the results of the policies they are implementing.
For God's purposes to be accomplished through the actions of U.S. governing officials.