When Businesses Close, Communities Lose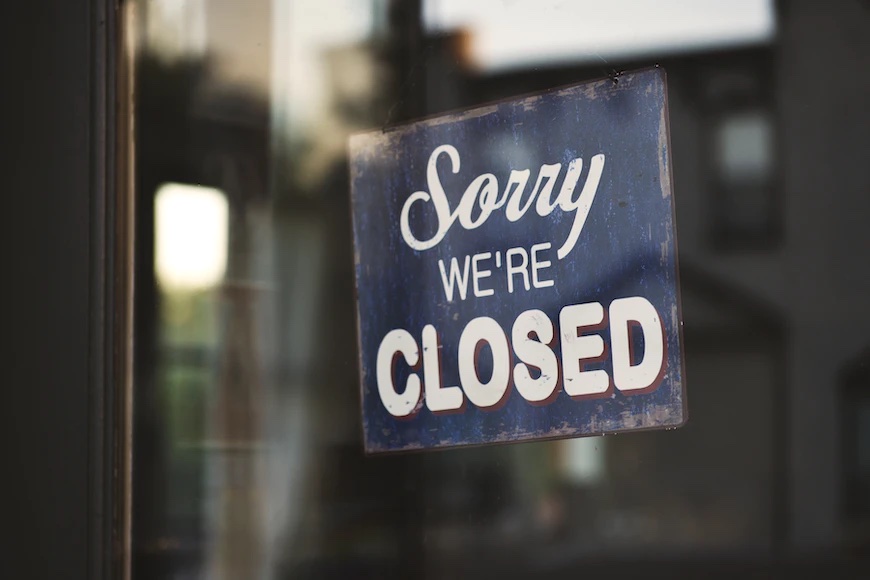 During the COVID pandemic, a number of businesses, large and small, were forced to close their doors or declare bankruptcy. Some of the more high-profile retailers that were impacted include Ascena Retail (owner of Lane Bryant and Ann Taylor), Belk department store, Brooks Brothers, Chuck E. Cheese, Century 21 Stores, GNC, J.C. Penney, J. Crew, Lord & Taylor, Neiman Marcus, Pier 1, Stein Mart, and Tuesday Morning. Some closed permanently while some are working their way through bankruptcy to give the chain another chance. However, it is the small businesses in America's communities that have been hardest hit.
A journal of the National Academy of Sciences surveyed a number of small businesses in 2020, gaining insight into the economic impact of the coronavirus pandemic on small businesses. Their results revealed "both the financial fragility of many small businesses, and the significant impact COVID-19 had on these businesses in the weeks after the COVID-19–related disruptions began."
An April 2021 abstract from the Federal Reserve showed that business closures continued through December of 2020, with a slow pick-up beginning at the start of 2021. It is not surprising that hospitality businesses, theaters, and full-service restaurants experienced significant closures. Those whose businesses focused on outdoor "recreation" had a slower rate of decline. The retail sector had a similar significant increase in business exits. Others, such as grocery stores that were deemed "essential," had below-normal closure rates.
After two years of pandemic-related shutdowns, labor shortages, and supply chain issues, small businesses now have another obstacle—the 2022 inflation. In June 2022, Digital surveyed 1,000 owners and co-owners of small businesses with 500 or fewer employees. Among their key findings are that 65 percent say it is "very likely" or "likely" they will permanently close if inflation continues at its current rate. With the prospect of a recession on the horizon, 95 percent of those small business owners were "very" or "somewhat" concerned about their business continuity. Thirty-eight percent of small businesses facing closure said they plan to lay off employees to stay afloat.
The loss of even a few businesses can have a devastating impact on communities. Connie Loden, an economic and community development professional, says, "Communities tend to go through stages similar to grief when they face an economic hit. There's shock. Then people get angry, and they do get depressed."
Loden believes the job of leaders at this critical time is to help communities not get stuck in grief and anger. She says, "People who get stuck typically believe that somebody or something will come to save them — that it's not in their ability to do anything themselves. When no one does save them, they move back into grief and anger. Then it becomes part of their culture. That's the worst outcome a town can get." Strong leadership can pull a community together and get it moving on a united front.
The vitality of business is essential to the health and well-being of a community. When businesses do well, a positive, giving, and supportive environment resonates throughout the community.
Kabbage, an American Express Company, has been tracking recovery trends and growth outlook for U.S. small businesses. Adaptation to a shifting market, looking beyond pandemic-wrought challenges, adjusting for inflation, and modifying hiring practices are essential for small businesses to sustain themselves. They predict that growth will be modest, that businesses are likely to hold onto inflation-necessitated higher prices for six months or more, and that the launch of new businesses will not happen to any significant degree.
The head of the Small Business Administration, Isabel Guzman, said of the Inflation Reduction Act signed into law in August 2022, "[The law] makes urgent investments that will bring down costs, level the playing field, and open up historic opportunities for America's 33 million small businesses and innovative startups."  
She stated that the law will address inflation, bring down the budget deficit and America's transition to "safer, cleaner energy." She went on to say that the act will reduce healthcare and energy costs and that "lower costs mean small business owners and entrepreneurs can focus on doing what they do best, creating jobs, developing talent, innovating, and opening doors of growth and opportunity across all of our communities—including selling more American-made goods and services to the world's largest buyer: the U.S. Government. "
God is the Author of industriousness and approves of business. The small business owner may benefit from meditating on Proverbs 21:5, "The plans of the diligent lead surely to abundance, but everyone who is hasty comes only to poverty."
How then should we pray?
For the Lord to show you ways that you can support small businesses that may be struggling within your own community.
For discernment for the small business owners who have to shut down and the decisions they must make for themselves, their employees, and their lenders.
For Administrator Guzman and officials within the Small Business Administration as they seek to assist small business owners.
For the families and employees of owners who have had to close their businesses.
For community leaders in small towns to have vision and hope from the Lord to share as business closures affect neighborhoods, schools, churches, and other facilities.
That the president and his administration would seek God's leading in ways to encourage business and economic progress.