Today, President Joe Biden and First Lady Jill Biden will travel to Camp David this morning to spend the weekend.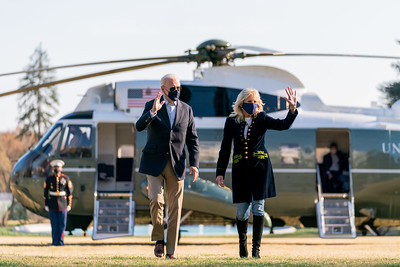 As the conflict between Israel and Hamas reached a ceasefire late Thursday, the president said, "I believe the Palestinians and Israelis equally deserve to live in safety and security and enjoy equal measures of freedom, prosperity, and democracy. My administration will continue our quiet and relentless diplomacy toward that end. I believe we have a genuine opportunity to make progress and I am committed to working toward it."
White House Press Secretary Jen Psaki said spoke further about the situation, stating, "the President has set a clear objective from the beginning, which was to end the war — play any role we can ending the war and bringing it to a conclusion as quickly as possible. And at the beginning, that seemed highly unlikely, given there were thousands of rockets falling on Tel Aviv and the Israelis were on a war footing and preparing for — by many reports — a ground invasion."
As the Lord Leads, Pray with Us…
For the president and first lady as they spend time at Camp David.
For wisdom for the president and the State Department in navigating foreign policy in the Middle East.
For the president and his Cabinet to seek God's direction as they address the issues the nation faces.