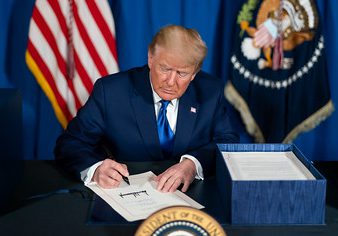 This Saturday, President Donald Trump is staying at the White House. He has no public events on his schedule at this time and is expected to continue meeting with federal leaders and members of his staff and administration.
The president proclaimed today, January 16th, as Religious Freedom Day. "Deeply embedded in the heart and soul of our Nation, this transcendent truth has compelled men and women of uncompromising conscience to give glory to God by worshiping both openly and privately, lifting up themselves and others in prayer," he said. "While Americans enjoy the blessings of religious liberty, we must never forget others around the world who are denied this unalienable right," the president continued, adding, "Sadly, millions of people across the globe are persecuted and discriminated against for their faith."
President Trump concluded, "On Religious Freedom Day, we honor the vision of our Founding Fathers for a Nation made strong and righteous by a people free to exercise their faith and follow their conscience. As Americans united in unparalleled freedom, we recommit to safeguarding and preserving religious freedom across our land and around the world."
As the Lord Leads, Pray with Us…
For God to be at work through the president this weekend.
For wisdom for the president as he continues to work with administration officials to handle issues facing the nation.
For God to be glorified through Religious Freedom Day and that His will would be accomplished in bringing many more to saving faith.