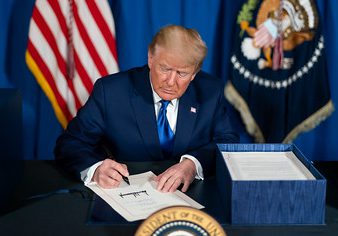 President Donald Trump remains in Florida at Mar-a-Lago today. He continues to see to the business of the nation and signed several legislative bills on Wednesday.
The president extended visa sanctions for nations that have delayed the acceptance of their citizens back into their countries from the United States during the pandemic. President Trump stated that this poses "unacceptable public health risks for Americans" and that the U.S. "must be able to effectuate the repatriation of foreign nationals who violate the laws of the United States."
The president also signed bills that include extending overtime pay for the Secret Service, establishing the locations of certain clinics, testing facilities, and post offices, as well as the Indian Community Economic Enhancement Act of 2020 which promotes Native American business development.
As the Lord Leads, Pray with Us…
For President Trump to be discerning in the actions he takes.
For the bills the president signs and the decisions he makes to increase the wellbeing of Americans.
For the State and Treasury Departments as they determine and implement sanctions.