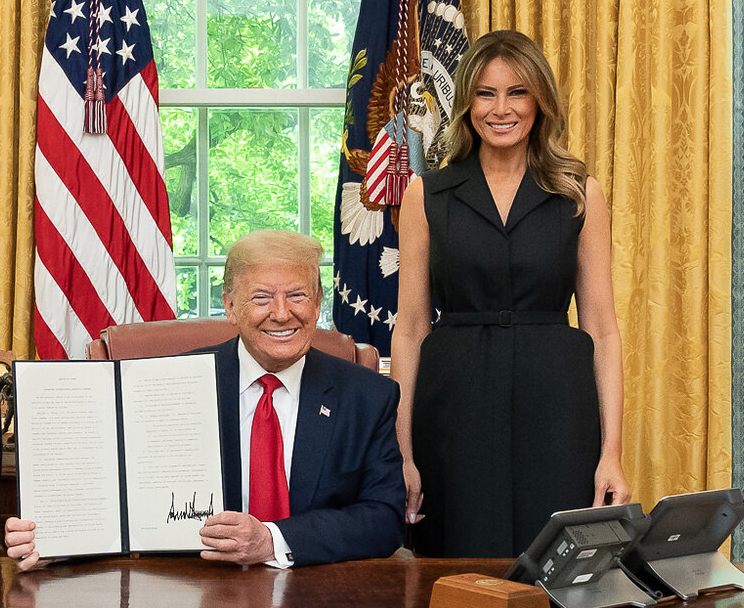 Today, President Donald Trump and First Lady Melania Trump will be participating in a signing ceremony for H.R. 473, authorizing a Women's Suffrage Monument to be installed at the Nation's Capital. This year commemorates the 100th anniversary of the 19th Amendment to the U.S. Constitution which extended to women the right to vote.
In June, as part of the anniversary celebration, the first lady organized an exhibit for children to contribute artwork honoring the suffrage centennial, saying, "For decades, women leaders lobbied, marched, and protested for equality and their right to vote in the United States. It is my hope that this project will both support and expand the important conversations taking place on equality and the impact of peaceful protests, while encouraging children to engage in the history behind this consequential movement in their own home state."
On Women's Equality Day in August, President Trump stated, "Women are an essential part of the political, economic, and social fabric of our Nation. All American women — regardless of the role they play in the workplace or at home — contribute every day to the success of our great country."
As the Lord Leads, Pray with Us…
For the president and first lady as they continue to celebrate the centennial with the signing of the congressional bill for the Women's Suffrage Monument.
For God to be glorified in the equality of women in U.S. society.
For Congress as they consider and vote on final bills of the current session.
For officials in the Interior Department as they oversee National Parks and Monuments.