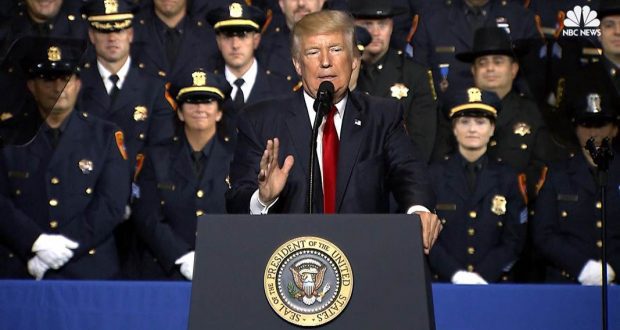 Today, President Donald Trump will travel to Bedminster, New Jersey. He will be addressing the City of New York Police Benevolent Association in the afternoon.
Founded in 1892, the Police Benevolent Association of the City of New York is the largest municipal police union in existence. The not-for-profit, private organization represents two-thirds of the 36,000 officers serving in the NYPD.
President Trump has been consistent in his support of law enforcement, issuing an executive order on Safe Policing for Safe Communities two months ago. Calls to cut spending for police departments have created instability as demonstrators and rioters have vandalized and looted in many large cities across the nation, regularly perpetrating violence against officers.
The president is addressing this law enforcement representative body in the wake of Seattle Police Chief Carmen Best stepping down after two years in her position. President Trump called her departure a shame, saying he thought "Seattle has made a tragic mistake" in not providing law enforcement the funds they need.
As the Lord Leads, Pray with Us…
For President Trump as he works to maintain law and order in this country.
For the attorney general and the Department of Justice as they seek to identify and prosecute instigators of violence and crime.
For the Lord to be with those in law enforcement, protecting them and giving them strength as they serve.